With the rapid growth of technology, new methods of makng money are increasingly emerging and gaining popularity. In this regard, the Go Daily newspaper reading app is regarded as one of the best methods to make online money in Vietnam, attracting a big number of young people. So, how can you gain online income with this form? Join us to learn about the useful information provided in the article below!
1. Could people actually make money from Go Daily?
Making money online has been a common trend in Vietnam in recent years. This is regarded as a method of earning money over the Internet. One of these is Go Daily.
Everyone must have been confused after hearing that people get a lot of money via reading news app. However, it is true and possible for everyone to make money buy these ways through our app.
Making money using online applications is becoming increasingly popular among young people because of these reasons: not being wasting time, just simply reading the newspaper for further information will provide you with a source of cash. As a result, reading newspapers using the Go Daily app provides you with the potential to make extra money for yourself.
Simply have a smartphone with an Internet connection and download the Go Daily app to your device to begin your money-making quest. Every day, you go to the app to get points; the more points you have, the more money you have. As a result of the convenience and attractiveness that this program provides, many individuals are interested in and choose this way of earning money by reading newspapers.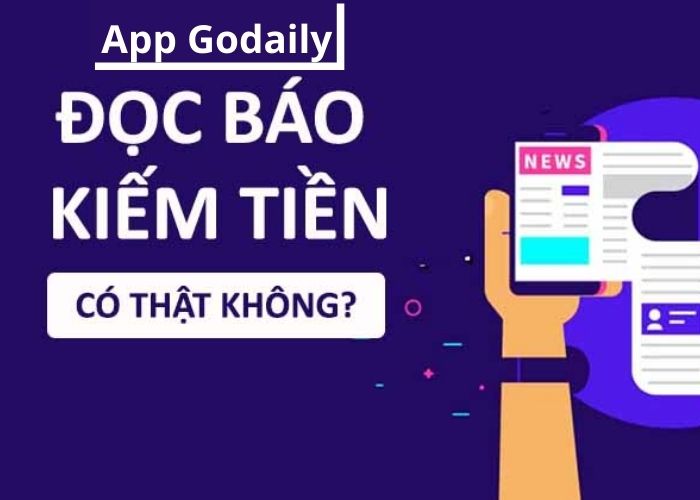 Making online money through news app - Go Daily
2. 7 ways to make money from Go Daily – news app
If you want to get some additional money, don't skip this special app called the Go Daily. Here's a outline of the various ways that you may earn money online by utilizing Go Daily. Let's go through it again for more ways to get money with this trendy software!
2.1 Daily attendance
The first step to get money from this type of newspaper application is to be present every day. This procedure is really simple, straightforward, and quick. The quantity of bonus points in your account has already increased with just one or two modest steps.
You may earn a lot of points by logging into the Go Daily newspaper reading program every day. Specifically, on the first day of attendance, you will receive 10000 points, on the second day, 15000 points, and on the third day, 20000 points, and every day you take attendance in this manner, you will amass a lot for yourself a lot of points
Invite friends to download Go Daily earning daily money
2.2 The Q&A tasks
The next activity that will help you earn more points and money is to complete a question and answer task. To complete this question and answer task, go to the Welcome Task Tab, in the FAQ section, continue to click on the word Go to perform the task of answering the application's questions.
You will be required to answer certain questions from the Go Daily app in this activity. After finishing the assignment, you click the Get gift option to get points.
2.3 Watch advertisement to accumulate points
You can earn more points by watching videos on Go Daily. By this way, you can do it every day about five videos and each video you get to be 50000 points.
2.4 Playing "coins tree "
In order to make money less dull, the app also intergates a game called "coins tree" that raise your income whenever you visit the app. Making money in this way is so simple that it just takes a few minutes each day. The more you come, the more you get.
2.5 Getting coins by reading news daily
Reading newspapers might help you get points regularly each day. It is not only a great way to read daily news but also accumulating points, it's amazing, right? As a result, after reading an article, you can get points from this. Persist in reading several articles in Go Daily every day, you'll have the possibility to earn additional points.
2.6 Invite friends to download Go Daily
One of the ways of making money from app Go Daily is that you're going to introduce your friends to Go Daily. The more you recommend, the more likely you will earn. If you work hard, you can earn millions of dollars every month.
You will get 6923 points for each person you mention. You will earn 4615 points for each person you recommend about 2 to 3 persons. As a result, the amount of points you earn will progressively rise according to the number of people you recommend.
2.7 Spin the prize wheel
This is a lucky spin game, you're going to spin the lucky wheel of Go Daily to get points. There are so many levels of grades, where the lucky wheel stops, you will receive the corresponding number of points.
3. Conclusion
The following article has just shared with you one of the make money online ways in Vietnam – news app Go Daily. In these ways, hopefully, you'll accumulate a lot of points per day so you can change with the amount of money per month!