There are several reward point redemption applications available at the moment, including Newspaper or 24h, VN Today, and New Newspaper. Have you ever heard the name Go Daily before? Since its introduction to the market, this online money earning platform has grown in popularity and is an excellent solution for those who want to have extra income. Let's find out more about the application down below.
1. What is Go Daily?
Go Daily is a free, commercialized newspaper browser that is compatible with several platforms and devices. Once you install the app, you will be free to enjoy the most pleasant moments of your life.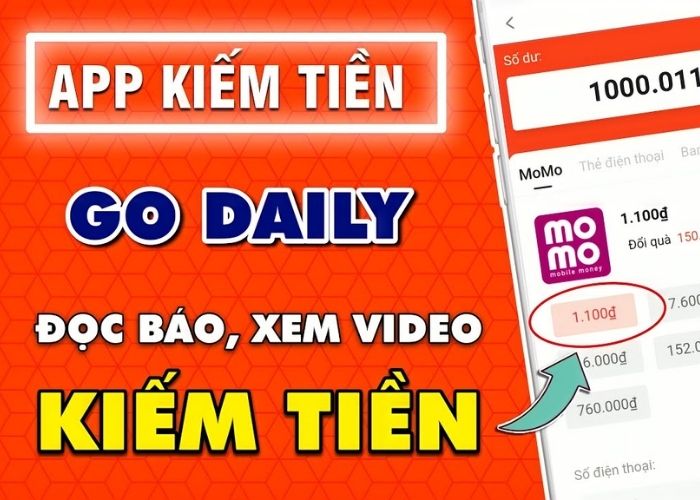 Do you know what is Money – Making apps?
Provides consumers with a large news source, such as sports, social media, entertainment, videos, and other topics that have been popular in recent times. With Go Daily, you can now earn extra real money by reading the newspaper on daily basis.
The program can detect and propose the material you prefer to readthanks to artificial intelligence (AI). You'll save time looking for news as a result of this. This is one of the most exceptional and remarkable features of this app.
In a brief, Go Daily(📍 ) is an application that uses artificial algorithms to watch the news. When users join the program, they may read newspapers as well as receive more appealing rewards.
The application has increasingly developed its requisite variety by giving a series of preferential treatment. The following are some of the prominent activities that we'll review for future reference.
1.1. Attendance gift
Anyone who visits the application has the possibility to get incredibly appealing presents ranging from 10,000 to 38888 points. You may accumulate an extraordinarily valuable "gold store" by simply attending from day one to day seven.
Finding interesting things only at Go Daily online making app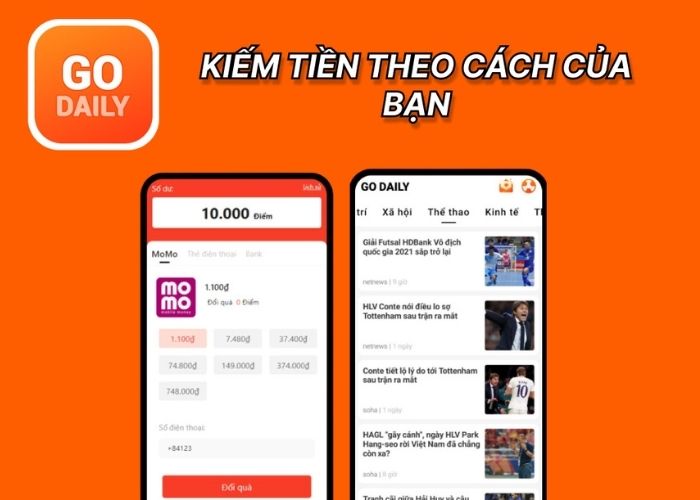 Finding interesting things only at Go Daily online making app
1.2. Welcome Task
As a new user who registers for a Go Daily account, you will be able to earn incredibly valuable bonus points from the Welcome Task section. By engaging, you will progressively gain points and convert them into an equivalent value.
Q&A.
Read an article.
Share via Facebook.
Enter the referral code.
Read 10 articles.
There is no requirement to complete the assignment within a specific time range. You can do it as long as you have spare time. Users are much more engaged in assigning the calendar in the most efficient manner. Go Daily is focused about being simple and quick.
1.3 Daily quests
Daily quest is one of Go Daily's most popular events, attracting a large number of visitors. Located at an exceptionally appealing bonus level ranging from 3000 to 10000 points. This program will undoubtedly provide you with a substantial source of money. Some of the main tasks may include:
Watch videos to accumulate points.
Read 1 article.
Share Facebook.
1.4. Other tasks
Not just that, but this software also has other very appealing functions. You can freely select a kind of entertainment to earn a variety of bonus points listed below:
Receive gifts by introducing
Lucky Spin.
Read the article and watch the video to earn points.
This is now a popular application among many people because of its multiple choices of experiential services. When you visit Go Daily, every of your actions might earn you additional points.
2. Who can join Go Daily?
Go Daily is a healthy newspaper reading application that is appropriate for all Internet users. Anyone could use the app to read newspapers, relax, entertain, and earn money online.
In fact, whether you're still a student or an undergraduate and a demand for make money online, it can still be used to bump up the income. This is an extremely easy one that anyone can try.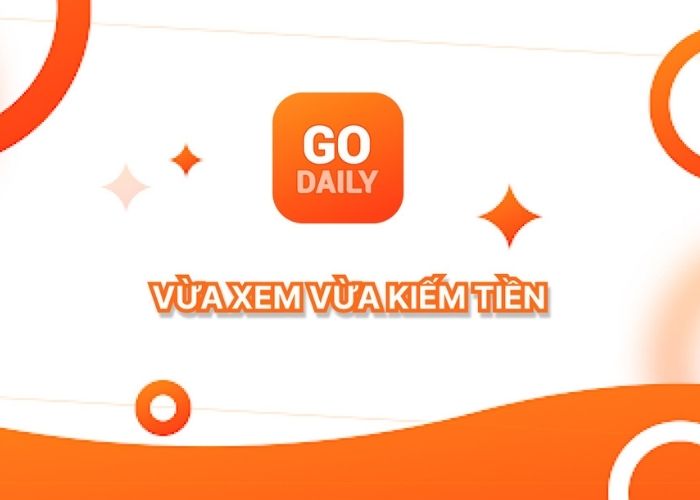 Go Daily - The fastest and most convenient way to make money while enjoying
Making money online in Vietnam is getting increasingly popular. This will help to promote the growth of many various types of WFH with a wide range of diversity, such as fanpage administration, blogging, and so on, and among them, reading newspapers to boost revenue is essential.
3. How to register with Go Daily
Go Daily does not bias against any user, so you may feel safe and secure engaging in collecting reward points to convert money immediately on the app every day.
Because the Go Daily program is only available on the Android operating system platform, users need to pay attention. Before you register your account, you need to make sure that the network is still stable. This will help you not to manipulate too many times.
Step 1: Get started by clicking on the app icon
Step 2: On the main interface, click on the first picture icon, which is located in the upper right corner of the menu bar.
Step 3: To shorten the registration process, use Facebook Login.
Step 4: After successfully registering, all you have to do is complete the tasks provided on the web page to get points.
4. Final Verdict
Undoubtedly, Go Daily is becoming a great deal for those who are in need of online earning money. You can access here to get the best quality download link here! Quickly download the app to try and enjoy with us.